One of the 12th Jyotirlinga Baba Baidyanath Dham
Patna to Baidyanath Dham
Discover the Divine Journey from Patna to Baidyanath Dham – 1 Night, 2 Days
Darshnam Tours
invites you to embark on a soul-enriching pilgrimage from Patna to the sacred Baidyanath Dham! Our meticulously crafted tour package promises an unforgettable experience filled with spiritual bliss and comfort.
Tour Duration: 1 Night, 2 Days
Transportation: AC Tempo Traveler (17 & 26 Seater)
Accommodation: We ensure your stay is comfortable and peaceful with carefully selected hotels.
VIP Darshan at Baba Baidyanath Dham: Experience the divine grace as we offer you VIP access to the revered Baba Baidyanath Dham. Skip the lines and immerse yourself in the serenity of this holy shrine.
Itinerary:
Day 1: Patna to Baidyanath Dham
Depart from Patna in the morning aboard our luxurious AC Tempo Traveler.
Relax during the scenic journey as we drive you to the spiritual land of Baba Baidyanath Dham.
Check-in to the hotel and freshen up.
Visit nearby sacred places to kickstart your divine journey.
Attend the evening Aarti at Baba Baidyanath Dham and feel the spiritual aura.
Day 2: VIP Darshan and Return to Patna
Wake up early to partake in the morning Aarti and seek blessings from Lord Shiva.
Proceed for the VIP Darshan at Baba Baidyanath Dham, an experience that will stay with you forever.
After the divine encounter, we head back to Patna with hearts filled with reverence and joy.
Reach Patna by evening, cherishing the memories of an incredible spiritual expedition.
Contact us now
to book your seat on this sacred journey! Let Darshnam Tours be your trusted companion as you create cherished memories and connect with the divine at Baidyanath Dham. Secure your spot today and gift yourself an experience of a lifetime!
Website: www.darshnam.com
Email: support@darshnam.com 
Contact: 7321026351
Embrace the Divine with Darshnam Tours!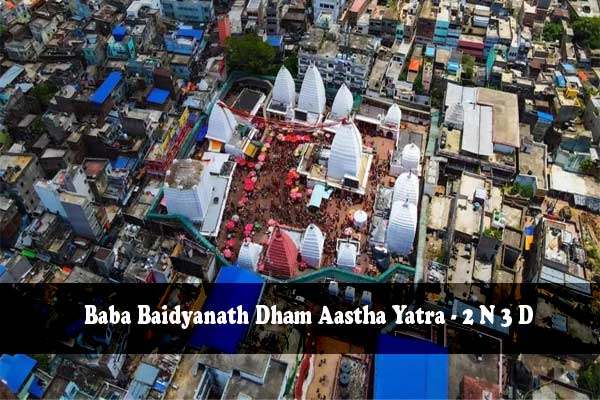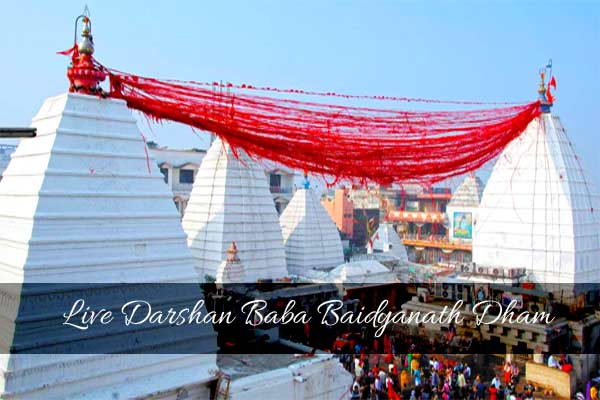 How to reached Patna to Baidyanath Dham
To travel from Patna to Baidyanath Dham, you have several transportation options. Here's a guide on how to reach Baidyanath Dham from Patna:
By Road:

The most convenient and commonly chosen mode of transportation is by road.
You can opt for private taxis, cabs, or even book seats in AC buses that ply between Patna and Baidyanath Dham.
The distance between Patna and Baidyanath Dham is approximately 240 kilometers, and it takes around 6-7 hours to reach, depending on traffic conditions and the chosen route.

By Train:

You can also consider traveling by train from Patna to Baidyanath Dham.
Board a train from Patna Junction (PNBE) to Jasidih Junction (JSME) or Deoghar Junction (DGHR).
Both Jasidih and Deoghar are the nearest railway stations to Baidyanath Dham, with regular train services connecting them to Patna.
After reaching either of these stations, you can hire a local taxi or auto-rickshaw to reach Baidyanath Dham, which is about 7-10 kilometers away.

By Air:

The closest airport to Baidyanath Dham is the Deoghar Airport in Deoghar, which is approximately 8 kilometers away.
You can book a flight from Patna's Jay Prakash Narayan Airport (PAT) to Ranchi and then take a taxi or bus to Baidyanath Dham.
Although flying can be faster, it might involve more travel time and cost compared to other modes of transportation.

By Bus:

State-run buses and private buses also operate between Patna and Baidyanath Dham.
You can check for bus schedules and book tickets from the nearest bus terminal.
Buses take around 6-7 hours to reach Baidyanath Dham from Patna, depending on the route and road conditions.
Always ensure to plan your journey ahead of time, book tickets in advance, and check for the availability of transportation options. Be mindful of the weather conditions and local travel guidelines while undertaking your journey. Enjoy your trip to the sacred destination of Baidyanath Dham!
Patna to Baidyanath By Road
Patna to Baidyanath By Train
Patna to Baidyanath By Air
Patna to Baidyanath By Road
Patna to Baidyanath Dham Jyotirlinga Distance – 250 KM Approx. Patna to Baidyanath Dham (Deoghar) taxi fare will be Rs. 8000.
Patna to Baidyanath By Train
Patna to Baidyanath By Air